Local entrepreneur gifts books to Elmwood Elementary School and comfort to kids across Wisconsin
BROOKFIELD, WI: (May 27, 2020) – Local entrepreneur and business owner Suman Atreya [Radhakrishna] announces the donation of 100 new children's books to the second-grade classes at Elmwood Elementary School and is inviting kids across Wisconsin to schedule a virtual visit with Aidan, The Hugging Golden Doodle.

ComfortGives, the social impact and philanthropic arm of ThoughtFocus, a 1,500+ employee Brookfield, WI technology company, is giving back to the community it loves. As a long-time literacy advocate, Radhakrishna believes that books can be a source of comfort and escape for kids as they process the stress of changed schedules, their parents' anxiety, separation from their friends, and canceled activities.

Aidan the Hugging Goldendoodle, the book to be donated to Elmwood Elementary in New Berlin, chronicles Aidan's adventures as he searches for the meaning and purpose of his life. Endowed with the heart of a Golden Retriever by his mother and the intelligence of a Standard Poodle by his father, Aidan is sent to the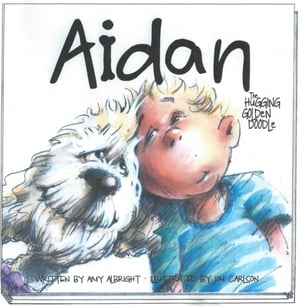 city to discover his natural gift of comforting others. Aidan struggles at first but makes friends along the way who change his life—and theirs—forever.

"Team Elmwood's Second Grade is thrilled to welcome ThoughtFocus and comfort dog, Aidan, for a virtual read aloud in June," commented Dr. Katy Williams, Principal at Elmwood Elementary. "ThoughtFocus' generous donation will allow every second-grade student to receive a copy of Aidan's book. We are 'Roaring Towards Excellence' together and are looking forward to distributing these books to our second-grade students and to reading with Aidan."

Aidan is not just a pup of storybook fame. He is a real dog and holds the position of Chief Comfort Officer at ThoughtFocus and is the official #doggo and #comfortdog for ComfortGives. Aidan has been working as a comfort dog for more than eight years in children's hospitals, military veterans, and seniors in hospice.

Not only will Aidan actively participate in the reading of his book to Elmwood Elementary's second-grade class, Aidan is also offering virtual hugs at no cost to kids across Wisconsin. While he loves to hug in person, for now, Aidan is providing virtual visits to comply with social distancing guidelines. Children unable to attend school and in-person activities can benefit from these virtual visits and storytimes.
About ComfortGives
ComfortGives is the newly launched social impact and philanthropic arm of ThoughtFocus. This group has been created to enhance ThoughtFocus's ability to leverage technology expertise to better local and global communities by solving pressing problems.
About ThoughtFocus
ThoughtFocus is a privately held company, headquartered in Milwaukee, Wisconsin. We lead transformation in business with technology and insights to add value in four major sectors, aerospace and defense, education, finance, and manufacturing. We're unlike the large consulting firms whose digital transformation business model is disjointed into separate advisory and execution firms that may not reflect the reality of the client's needs. ThoughtFocus is a smaller company with an integrated approach, which has led to successful outcomes. The organization has grown rapidly since its inception and is now a mid-sized company, part of the Blackstone portfolio. The founders hold executive positions within the organization and are actively involved with clients and projects.
---